Random neuron firing, lame philosophy, literary pontificating, movies, sex, clothes & other femme stuff
Archives
great lynx to the poetry blogosphere
other nourishing lynx
evil lynx to monitor for safety's sake
---
Web Ring
<
#
Blogging Bitches
?
>
---
Wednesday, April 07, 2004
Sidetracked by Celebrity Jeopardy
I was starting to tell a story that would eventuate in a rollicking discussion of
this fabulous page
devoted to musical modality, including some wonderful ancient and medieval theories of modality and also a catchy original composition called "The Phrygian Paraquat Dirge," when I got sidetracked by SNL's Celebrity Jeopardy. This is what I had written:
Greta and I were looking over the fabulous list of exotic "L"-words I linked to yesterday to provide those in need a definition for "lupanar." "L"-words is one of those
If you're familiar with SNL Celebrity Jeopardy, you'll probably see right away what my association was. I suddenly had the urge to link to Sean Connery picking "Swords" (which I copied from
here
):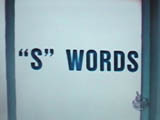 Connery: Ah, I'll take Swords for $400.


Trebek: It's, actually, not Swords, sir. These are words that begin with "S". The answer is: Popeye is this sort of man.

Reynolds rings in

Trebek: Burt Reynolds.

Reynolds: What is… Popeye?

Trebek: No.

Connery rings in

Trebek: Sean Connery, and remember, these are words that begin with the letter "S", not swords.

Connery: Saber.

Trebek: No.


Connery: It began with a bloody "S"!

Jerry Lewis rings in multiple times, laughing

Trebek: Mr. Lewis.

Lewis: I got the answer, Alex. You want the answers, it's simple. They're terrified of a perfectionist, they being the people who are running the studios this week. - time buzzer rings.

Trebek: I'm sorry, Mr. Lewis, time's up. "What is Sailor?" was the correct response. Tough start for everyone. All three celebrities are 800 dollars down.

Connery: The hell if I'm going to pay you a bloody 800 dollars!
Anyway, Greta and I proceded to waste more than hour rolling around, wailing, and crying exorbitantly while watching the entire Celebrity Jeopardy series, posted as rm files
here
.
Go there. Now. You'll laugh. You'll cry. You'll pee in your pants.